What's New in A Clockwork Brain 2.0!
The long wait is over! A Clockwork Brain 2.0 is here, and with it numerous features that we hope will delight you!
With 20 months in the making, A Clockwork Brain 2.0 aims to bring gamers and brain training enthusiasts together, in a fun, social and competitive game.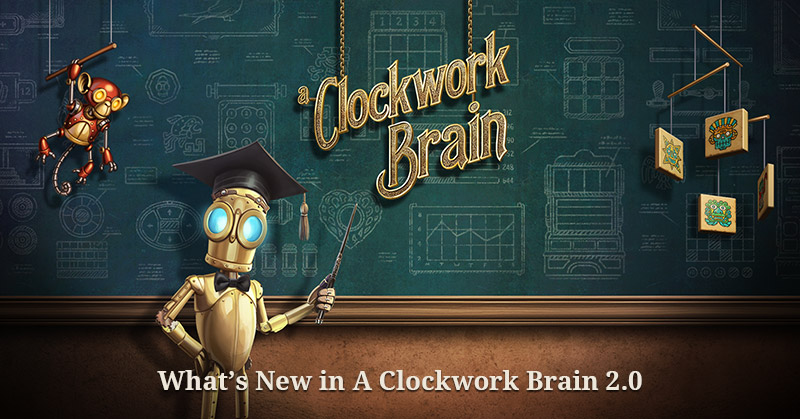 There are a lot of great, new features available in A Clockwork Brain 2.0 and today I'd like to give you an overview of the major ones.
Quick Game
As before, you will be able to play mini-games on their own, only now you won't need to own them first. That's because in this new version you'll have Energy, which will be gradually spent as you play.
Those of you who had purchased any of the Game Packs in v.1.x will find a Mega Capsule installed under those games, so you'll be able to play them without spending any Energy. We believe the new Energy system will allow you to enjoy many games daily!
Daily Boost
Daily Boost offers you personalized, tailor-made training to hone specific skills and doesn't require Energy. Each day that you start A Clockwork Brain, a set of 4 mini-games will be available for you to play sequentially in a focused workout.
To activate it you will need to connect to Facebook, but in the future we'd like to include other methods of activation.
Mini Games
Each mini game has been designated to one of the following cognitive skills: Memory, Attention, Dexterity, Language and Reasoning, to show you what you'll be training.
There are now 4 difficulty ranks per game, which means you won't always start from easy stages, continue to medium and finish in hard ones all in a single play. Instead, each mini game will become more difficult over time the better you become at it, and your next session will begin at that difficulty level.
We have designed and developed 4 brand new mini games, each unique in its own way, and our goal is to release a new one every month or so following this release.
Solo and Wheel of Colors train Attention, Scrambled Words will sharpen your Language skills and Matching Ends will surely challenge your Memory!
Levels, XP & Performance Stats
This new version of A Clockwork Brain aims to offer you an enriched experience, a sense of progress and achievement.
Based on your performance in each Quick Game, Daily Boost and Custom Workout, you will collect XP (eXperience Points), which in turn will affect your Level. As you Level Up, new Upgrades will become available for you to collect.
Detailed stats will be available for your overall performance over time, as well as for all mini-games. You'll now be able to truly track your progress with graphs of weekly and monthly intervals to see what area you need to work harder on..
Petbots
Can you imagine cute little Steampunk animals that actually act as powerful boosters when you play the game? Well, that's what we had in mind when we created the Petbots!
This release will feature 8 Petbots, and there may be more coming in the future. Keep in mind that it's up to you whether you want to use them or not.
Additional Features
Relaxed Mode
A much-requested feature from our players, Relaxed mode will allow your to play without the stress of time and the new background music will further relax you, as you play your favorite mini games.
Game Syncing
In 2013 we began building our very own backend system, which, among other things, will allow you to start playing on one device and continue on another. Furthermore, we designed it so that your entire game state (Sprocket Tokens, achievements, stats, etc.) carries over, regardless of the underlying platform.
Time to Play!
A Clockwork Brain 2.0 is a free update for existing iOS players, which means you should expect your Tokens and purchases to carry over to the new game. As for our friends on Android and Windows, the game is available there as well, to offer you a true multi platform experience!
We can't wait to have you experience all these exciting features and more for yourselves and we hope you will enjoy the new challenges and have lots of fun along the way!
Happy brain training!
Argiris
Co-Founder & CEO
Total Eclipse